Earning a four-year college degree might not be for everyone.
That's okay! You don't always have to get a degree in order to have a successful career. Industrial jobs are a popular option which often don't require a college degree.
Two of the most popular industrial professions are electricians and HVAC technicians. You might be wondering how these two career paths compare to one another, and most importantly, how you know which one is right for you.
Keep reading to learn about their corresponding job duties, work environments, salary potential, and how to get started in your career.
Job duties: Electrician vs HVAC technician
Before embarking on a new career path it can be helpful to know exactly what your days would look like if you were working in this role.
As an electrician, you might:
Plan electrical systems for new buildings
Troubleshoot, repair, or replace faulty electrical equipment
Maintain wiring, control systems, lighting, and products that support electrical systems
Install switches, relay, and other distribution equipment
Read through circuit diagrams, architectural blueprints, and other technical documents
Test electrical systems to ensure they're functioning properly
As a HVAC Technician, you might:
Maintain HVAC systems by changing filters, cleaning ducts, and refilling refrigerants
Install new HVAC systems and control tools like timers and thermostats
Read through blueprints
Test pipe connections for leaks
Test electrical circuits to ensure their functionality
Drill holes in buildings for HVAC system installations
Repair and replace faulty equipment
Something to keep in mind
The job duties listed above offer a general overview of the kind of tasks electricians and HVAC technicians are commonly asked to do. However, that doesn't mean you'll have to complete all of these tasks in whichever line of work you choose.
Instead, most electricians and HVAC technicians only complete a handful of the tasks listed above. The specific responsibilities that you'll have in the workplace will vary based on the type of HVAC tech or electrician job that you find.
For example, an HVAC technician will often specialize in the installation, maintenance, or repair of HVAC systems. They're not always responsible for all three of these things.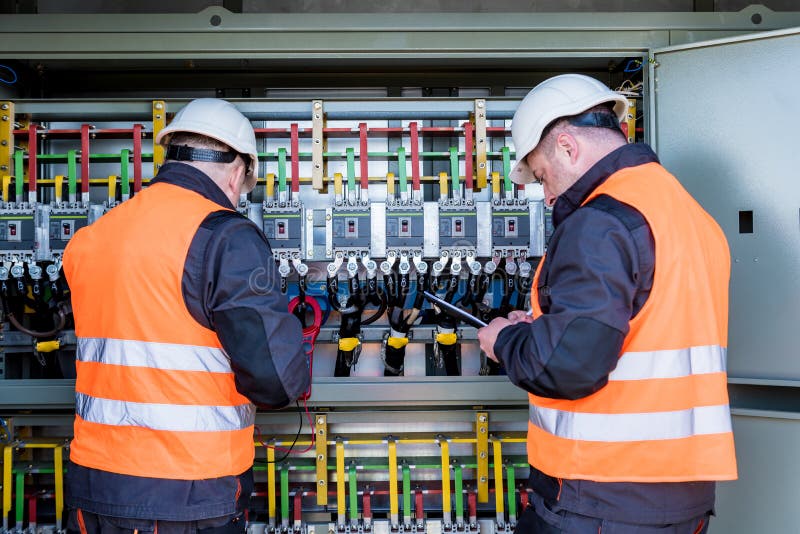 Which career path offers a better working environment?
Your work environment is another factor that will likely play a key role in determining which job is right for you. So let's see how electricians and HVAC technicians stack up in this category.
ELECTRICIAN WORKING ENVIRONMENT

Electricians can work in a ton of different places, so it's difficult to make a blanket statement about what you should expect. For example, many electricians work for residential clients. These individuals spend their time commuting from home to home and then working either inside of that home or on its exterior.
Other electricians work on construction sites where they plan out and install new electrical systems. These individuals are sometimes required to work outside in extreme temperatures or at great heights – definitely something to bear in mind if you have a fear of heights!
Ultimately, your work environment as an electrician is going to depend on the job you take, and you can consider what would suit you as you apply to jobs.
HVAC TECHNICIAN WORK ENVIRONMENT

HVAC technicians have a very similar work environment to electricians, and usually tend to travel around from home to home or business to business. Many HVAC technicians will spend their days working inside, but some will also need to work outside, where they can be exposed to harsh weather.
HVAC technicians tend to work in cramped spaces a little more frequently than electricians. Dealing with malfunctioning heating and cooling systems may also expose HVAC technicians to extremes of temperature.
Who makes more money?
Electricians and HVAC technicians make a similar amount of money, although an electrician can usually expect to make slightly more. According to the Bureau of Labor Statistics, the average annual salary for each profession is as follows:
Put another way, electricians make an average of $27.36 per hour. HVAC technicians make an average of $24.32 per hour.
Note: These salaries are just an average!
Depending on a variety of factors, you could make less or even considerably more than the figures above. Some factors that may affect your salary are:

Experience: Workers with more experience will usually make more than those with less experience – your salary may increase as you gain more experience.

Specialization: There are a range of options for electricians and HVAC technicians.

Location: Location matters. Electricians in Illinois make $81,650 on average. Similarly, HVAC technicians in Washington earn $65,180 on average.
Which profession is in higher demand?
As you pick a new career, you may want to make sure that you're selecting one which is going to be around for years to come. The metric that will tell you this is known as demand, and it's tracked by the Bureau of Labor Statistics (BLS).
According to the BLS, the national demand for electricians is expected to grow by about 8% from 2019 to 2029. That's much faster than the average growth for many industries.
The demand for HVAC technicians isn't growing as quickly, but it is still growing. The BLS says that the demand for these employees will increase by about 4% from 2019 to 2029. That's about as fast as average.
How do I become an electrician or HVAC technician?
The academic and training requirements for new electricians and HVAC technicians are pretty similar.
The first thing you will need to become an electrician or HVAC technician is a high school diploma or equivalent. Current high school students might want to take courses in things like physics, vocational math, and related topics.
This type of coursework isn't strictly necessary, but provides an extra way to prepare if you have the opportunity to.
After high school, aspiring electricians have two options: you can immediately enter a 4-5-year apprenticeship program or you can choose to study at a technical school first. The bonus of studying at a technical school is that the credit you gain may shorten the length of your apprenticeship.
Aspiring HVAC technicians don't necessarily have to complete an apprenticeship, and many will complete informal on-the-job apprenticeships by working alongside experienced technicians.
If you do choose to complete a formal apprenticeship program on your path to becoming a HVAC technician, this would usually take around 3-5 years to complete.
The bottom line is this: new HVAC technicians can usually get into a career-oriented position a little quicker than electricians. However, new members of both professions will likely need to spend between 3-5 years training alongside more experienced workers before becoming skilled enough to handle the role independently.
Which career should you pick?

There isn't a clear winner here.
The two professions are relatively similar in terms of tasks, work environment, and salary. Ultimately, your decision will likely come down to personal preference.
If earning the highest salary possible is your goal, then becoming an electrician may provide you with a slight advantage over becoming a HVAC technician.
On the other hand, if the prospect of completing a 3-5-year formal apprenticeship isn't something that excites you, becoming an HVAC technician could provide a less formal route into work.
As you consider which role is right for you, aim to weigh these factors for yourself and figure out which are a priority for you and your situation.