If you love building things and are especially fond of working with wood, then becoming a carpenter could be the perfect move for your career.
But before you jump into this profession, you'll likely want to be sure that you can make enough in it to support your lifestyle.
That's why we've put together this article. It covers everything that you need to know about how much carpenters make so that you can figure out whether this job is a fit for you or not.
Let's get into it.
What factors influence how much carpenters make?
The first thing to be aware of is that your income as a carpenter can vary pretty significantly based on several factors. We'll tell you about those factors in this section.
LOCATION
One of the biggest influences on how much you'll earn as a carpenter is where you live.
For example, the average annual salary for carpenters in Illinois is $69,490. But the average salary for those in South Dakota is $38,090.
As a general rule of thumb, if you live in an area with a high cost of living, you can typically expect to earn more as a carpenter, while the opposite is true for those in places with low costs of living.
AREA OF EXPERTISE
The specific type of carpentry that you do can also have an impact on the amount that you earn in this field. The Bureau of Labor Statistics tracks the average annual salaries for carpenters in different industries:
Nonresidential building construction: $54,220
Building finishing contractors: $50,030
Foundation, structure, and building exterior contractors: $48,430
Residential building construction: $47,710
So if you want to optimize the amount that you earn above all else, then it could make sense to specialize in nonresidential building construction instead of residential construction.
TRAINING
Another factor that can impact your salary is the amount of training that you've completed. Most carpenters learn the trade through an apprenticeship. Typically, an employer won't pay you the standard salary for a journeyman carpenter until you've completed your training.
EXPERIENCE
Generally, you can also expect to earn more as you gain more experience. That's because employers value employees who are capable of performing more tasks with higher levels of precision and independence, which is exactly what gaining experience helps you do.
How much do carpenters make per hour?
According to the Bureau of Labor Statistics, the average hourly wage for a carpenter is about $23.81 in the United States.
That's a tad lower than the overall average hourly wage in the United States, which is $29.81 at the time of writing.
The average yearly salary for a carpenter
The average carpenter in the United States earns $49,520 per year.
That's just a touch lower than the overall average annual salary in the country, which is just under $52,000.
But keep in mind that you don't need to earn a college degree to become a carpenter. So perhaps a more relevant comparison is the average annual salary for a carpenter and the average annual salary for someone without a college degree, which is $37,024.
That means if you know that you're not going to college, then becoming a carpenter can be a great way to boost your earnings potential.
Best places to work as a carpenter
We mentioned earlier that where you live can have a big impact on how much you earn as a carpenter. So if you're willing to move for your job, then you could unlock a much higher income by going to the right place.
In this section, we'll highlight the places in America that pay their carpenters the most so that you can figure out where you should be looking for employment opportunities.
STATES
Here are the states with the highest average annual salaries for carpenters:
Hawaii: $80,810
Illinois: $69,490
New York: $67,120
Alaska: $66,040
New Jersey: $65,500
It can be tempting to just go look for jobs in the states with the highest average salaries. But you should also keep in mind that opportunity levels differ greatly from one state to the next.
For example, there are only about 2,000 carpenters employed in Alaska and 6,150 employed in Hawaii. You can compare that to the state of New York, where there are 44,620 carpenters employed or California where there are 103,640.
The point is, you also have to look at the number of jobs that are available in a state before focusing your entire search on it. If there are relatively few employment options for carpenters in an area, it could make sense to focus elsewhere even if the average rate of pay is a bit lower.
METROPOLITAN AREAS
The Bureau of Labor Statistics also breaks down salary data for carpenters at the metropolitan area level. This can be useful to look at if you're hoping to get a more specific area to focus your employment search on.
So here are the top metropolitan areas for finding a high-paying job as a carpenter:
New York-Newark-Jersey City, NY-NJ-PA: $71,050
Los Angeles-Long Beach-Anaheim, CA: $67,330
Chicago-Naperville-Elgin, IL-IN-WI: $72,270
San Francisco-Oakland-Hayward, CA: $75,800
Seattle-Tacoma-Bellevue, WA: $69,160
SUBURBAN SALARIES
Maybe you prefer a rural lifestyle to an urban one. If so, a more relevant measurement for you to think about would be the highest-paying rural areas for carpenters.
Here's a list of these from the BLS:
Hawaii / Kauai nonmetropolitan area: $78,610
North Valley-Northern Mountains Region of California nonmetropolitan area: $69,080
North Missouri nonmetropolitan area: $62,080
Alaska nonmetropolitan area: $61,310
Massachusetts nonmetropolitan area: $59,930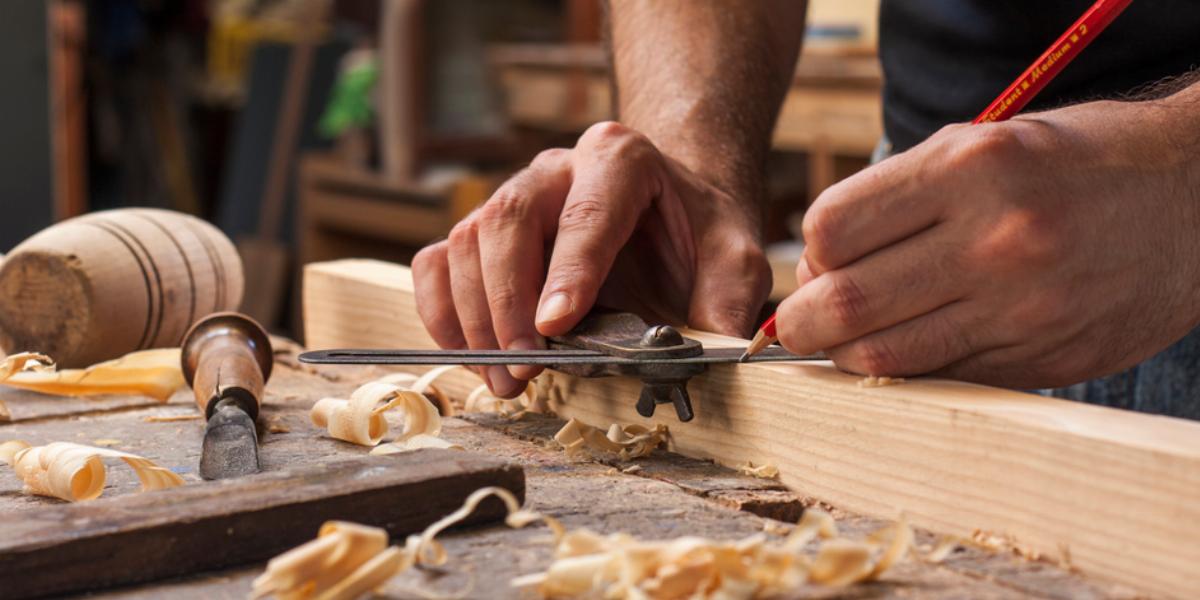 Starting a career as a carpenter
So now that you know how much carpenters make, you might be ready to begin preparing yourself for this career path. If so, there are a few things to consider. Here's a set of step-by-step instructions you can follow to become a carpenter.
COMPLETE YOUR HIGH SCHOOL EDUCATION
The first thing you need to do if you want to become a carpenter is complete your high school education. Don't worry if you've already passed that age and you don't have a diploma. You can earn a GED and still satisfy this requirement.
If you're still in high school, then you may want to start taking classes that get you ready for this career. Carpenters need to know math and perform technical drawings. So any classes that you can take covering mathematics or mechanical drawing should be very useful.
You may still technically be able to become a carpenter without a high school diploma or a GED. But many employers will likely screen you out from consideration if you don't pass this basic qualification test. So it'll be much tougher for you to find the position that you want.
FIND AN APPRENTICESHIP
The most important part of becoming a carpenter is finding the right apprenticeship. You can find these with industry associations, unions, and non-union organizations.
An apprenticeship is where you'll learn the hands-on skills that you need to make it as a carpenter. Many industrial professionals complete them, including HVAC technicians and industrial mechanics just to name a few.
During your apprenticeship, you'll get the opportunity to learn at least the following skills:
Basic carpentry tasks
How to read blueprints
Industrial mathematics
Building code requirements
Safety and first aid practices
Your apprenticeship may also cover more advanced tasks like setting concrete forms, rigging, and how to scaffold a building, but this will likely depend on the type of work that you plan on doing.
COMPLETE CERTIFICATIONS
Before a carpenter can start working, they first need to pass OSHA's Occupational Health and Safety course, which takes about 10 hours to complete.
You may also want to earn other certifications that help you stand out during your employment search. For example, if you become certified in a special type of carpentry, then you immediately become a more attractive candidate for employment in that niche.
FIND A JOB
Now you're finally ready to find your first carpentry job. Depending on who you completed your apprenticeship with, they may help you find a position or not.
But even if your apprenticeship provider does help you find a first job, there's no guarantee that this job is your best option.
Get your next industrial job with Rock the Trades
If you want to make sure that you find the best carpentry job available to you, then you have to check out the Rock the Trades app.
We automatically connect you with employers in your area who are looking for carpenters with your exact qualifications. This makes it easy to stay on top of the latest job opportunities so that you can find a position that you're truly happy with.So why wait? Take the first step towards a better carpentry career today by downloading the RTT app and creating an account with us.