Becoming an electrician is a great way to set yourself up with a lifelong career. Electricians will always be needed and your skillset will always be valued by employers. However, it's much easier to find a job as an electrician in some parts of the United States than in others.
That's why we've put together the following article. It contains all of the information that you need to know to figure out where you should be looking for jobs as an electrician, along with other information that will help you get started with this career. Keep reading to learn more.
What does an electrician do, exactly?
Electricians are trades workers that specialize in the design, installation, maintenance, and repair of electrical systems. They can work in residential homes, commercial businesses, factories, and any other location in which electricity is needed.
An electrician may complete a wide variety of tasks throughout an average day. The specific tasks that you'll complete as an electrician will depend on the type of jobs that you pursue. For example, you could spend time working on any of the following assignments:
Designing electrical systems for new homes and buildings
Reading through electrical blueprints
Installing wiring, lighting fixtures, and control systems into new and existing structures
Troubleshooting problems with existing electrical systems
Testing various electrical components to ensure they're functioning properly
Installing hangers and brackets to support electrical products
And many other tasks
Are electricians in high demand?
The Bureau of Labor Statistics shares a projected growth rate for each job that they track. This looks at how much they believe the job will grow over the following 10 years.
According to their metrics, the job outlook for electricians is supposed to grow much faster than the national average for 2019-2029. The BLS says that this profession will grow at a rate of 8%. This equates to an extra 62,200 jobs for electricians between 2019 and 2029.
Stats like these indicate the fact that electricians are in very high demand throughout most parts of the United States. It's easy to see why: we rely heavily on electricity for almost every aspect of our lives. We need skilled electricians to make this possible.
As you look toward the future, it could be very bright if you decide to become an electrician. Our demand for electricity is almost certainly not going to go down. And as long as that's the case, you'll be in a great spot to take advantage of that demand.
Do electricians make good money?
Electricians earn a solid income of about $56,900 per year on average. That number looks even better when you consider the fact that you don't need to earn a four-year college degree before you can become an electrician.
One thing to keep in mind is that there are a lot of different factors that can have an impact on your salary as an electrician. One of these is which state you work in. For example, here are the top five states for electricians based on average annual salary:
Illinois – $81,650
New York – $81,340
Hawaii – $79,280
District of Columbia – $79,030
Oregon – $76,040
Other factors that can influence your earning potential include your experience level and which type of electrical work you decide to specialize in. If maximizing your salary is what matters most to you, then it'll be a good idea for you to spend some time researching which types of electricians make the most before beginning your training.
Some of the factors that impact your earnings as an electrician will be out of your hands initially as well. For example, the average wage for a journeyman electrician is about $64,554 per year.
You can compare that to the average salary for a master electrician, which is roughly $74,408 annually. This is an example of a pay gap that you won't be able to make up until you gain more experience.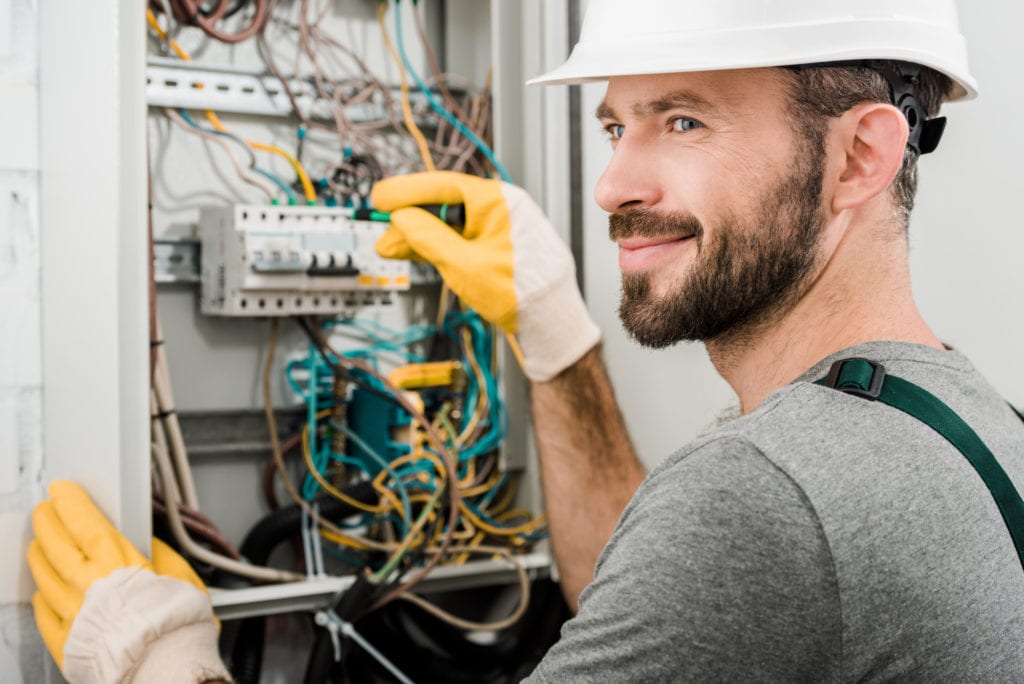 How do I become an electrician?
To become an electrician, you don't need to follow the traditional path of graduating from high school and then pursuing a four-year college degree. Instead, your training process will look something like what's described in the following sub-sections.
EDUCATION
You don't technically need to complete any type of formal education after you've graduated from high school if you want to be an electrician. However, doing so anyway is often a good idea. You'll stand out more when applying to jobs if you've completed more academic training than the candidates that you're competing with.
This typically means attending a trade or vocational-technical school. You can earn a certification or even a diploma through one of these types of institutions.
You'll get the chance to learn some of the theory behind the hands-on work that you'll be doing as an electrician. Having this knowledge can make you a more skilled electrician once you enter the workforce.
REAL-WORLD TRAINING
The main way that most new electricians train for the job is with an apprenticeship. These give you the chance to work alongside an experienced electrician who can help you gain the real-world skills that you need to start completing electrician tasks independently without issue.
You can find electrician apprenticeships in several different places. For example, if you decided to attend a trade school, then they'll likely have some existing partnerships that will make it easy for you to get started with an electrician apprenticeship when you're ready for one.
You can also look for an apprenticeship through a local union or even a local non-union organization such as the Independent Electrical Contractors (IEC) or the Associated Builders and Contracts, Inc (ABC).
The amount of time that you'll need to dedicate towards completing an electrician apprenticeship can vary. However, these programs typically take somewhere between 3-5 years to finish. That can feel like a long time but keep in mind, you will be getting paid a decent hourly wage throughout the process.
What are the top areas hiring electricians?
CALIFORNIA
California is one of the very best places to work as an electrician. There are approximately 71,010 employed in the state and they make an average of $75,900 per year.
TEXAS
Texas employs the second-most electricians in all of the United States. According to the Bureau of Labor Statistics, about 51,350 electricians work here. They make an hourly average wage of $24.69, which comes out to roughly $51,350 per year.
FLORIDA
Next on the list is Florida. There are about 41,900 electricians that work in the sunshine state. That means every 4.96 out of 1,000 workers in Florida is an electrician.
NEW YORK
New York also employs a great number of electricians. There are approximately 36,310 that work in the state as of 2021. Electricians in New York earn the highest annual salary on average at $81,340.
OHIO
Last on our list is Ohio. There are roughly 23,430 electricians employed in the state and they make an average of $54,700 per year.
What are the best metropolitan areas for aspiring electricians?
Job opportunities for electricians are often more concentrated in metropolitan areas. For example, the following list shows the metropolitan areas in the United States that have the most job opportunities for electricians, according to the Bureau of Labor Statistics.
New York-Newark-Jersey City, NY-NJ-PA – 36,580
Los Angeles-Long Beach-Anaheim, CA – 23,760
Dallas-Fort Worth-Arlington, TX – 18,630
Chicago-Naperville-Elgin, IL-IN-WI – 18,150
Houston-TheWoodlands-Sugarland, TX – 15,700
What non-metropolitan areas have the most opportunities for electricians?
Living or working in a city isn't for everyone. If you're someone who prefers rural life, then there are still plenty of electrician job opportunities available for you to pursue. Here's a look at the top non-metropolitan areas for aspiring electricians based on the BLS' employment statistics.
North Northeastern Ohio – 1,710
West North Dakota – 1,660
West Northwestern Ohio – 1,490
West Texas Region of Texas – 1,390
Lower Peninsula of Michigan – 1,380