Becoming a boilermaker is a great way to set yourself up with a lifelong career. According to the Bureau of Labor Statistics, boilermakers make an average of $65,360 per year. You could make even more of that as you gain more experience.
But to become a boilermaker, you'll need some training. That's why we've put together the following article. It highlights some of the top boilermaker schools and certification options so that you can figure out the right place to train for this career. Keep reading to learn more.
Why go to school or pursue a certification before becoming a boilermaker?
You technically don't need to earn a certification or degree to become a boilermaker. However, it can be pretty difficult to get hired as one if you don't pursue any training at all.
The Bureau of Labor Statistics says that the demand for boilermakers is increasing at a rate of 1%. That's slower than the average job rate in the United States.
This means that there's not going to be as large of a demand for boilermakers in the future as there might be for other lines of work. That's not to say that you'll never be able to find a job as a boilermaker. It just means that you're going to need to stand out from the crowd to get hired as one.
One of the most effective ways to separate yourself from the competition is by pursuing additional training. If an employer sees that you're committed to this career, they'll be much more likely to give you a chance.
Top 5 schools for boilermakers
SOUTHERN TECHNICAL COLLEGE – ORLANDO, FL
If you're from the Orlando, Florida, area, then Southern Technical College is a school that should skill set be on your radar. The institution offers an associate of applied science degree in welding technology that stands out in a few key ways.
While working through the program, you'll get to complete a wide variety of classes that help you develop the skills necessary to find employment as a boilermaker. Here's a sampling of what you'll learn:
Basic pipe welding
Non-ferrous welding
Introduction to fabrication
Structural welding
Introduction to TIG welding
Another major benefit of this program is the career support that it offers. The degree program itself includes classes on career preparation and business. Completing this type of coursework will give you a leg up on the competition when it comes time to search for a job.
DELTA TECHNICAL COLLEGE – HORN LAKE, MS
Delta Technical College is another southern school with a great program for aspiring boilermakers. Its journeyman welder degree program will help you gain all of the skills that you need to get hired once you graduate.
Some of the classes included in this program are:
Properties of metal
Cutting techniques of metal
Pipe-fitting
Blueprint reading
Safety training
The school also offers a variety of certifications in welding. Earning one of these alongside your degree won't be too hard. And doing so could help you distinguish yourself from other candidates when you start searching for a job.
CAL-TRADE WELDING SCHOOL – MODESTO, CA
This school could be your best bet if you're an aspiring boilermaker who lives in the Central California area. The school offers a wide variety of stand-alone welding programs, which makes it super easy to pick and choose which ones you want to take.
For example, some of the courses that are available at the Cal-Trade Welding School cover:
Welding inspection
Structural welding
MIG/TIG welding
Pipeline welding
One other reason to choose this school is its commitment to helping graduates find jobs. The school will help you obtain an interview and prepare for it regardless of how long it's been since you graduated.
WELDING NEVADA – LAS VEGAS, NEVADA
Welding Nevada is a good option for students who are looking for some flexibility in how they complete their coursework. The school's unstructured environment and open enrollment policy enable students to choose their schedule themselves instead of having to conform to an existing one.
You can also pursue some of the most coveted welding certifications here, including:
GMAW – Gas Metal-Arc
SMAW – Shield Metal-Arc
FCAW – Flux Cored Arc
AUSTIN COMMUNITY COLLEGE – AUSTIN, TX
Students in Texas can't go wrong by choosing the welding technology program at Austin Community College. The program is one of the best in the region and offers comprehensive training that will get you ready to become a full-time boilermaker.
The school offers several different welding programs to choose from, including options that cover:
Welding inspection
Pipe welding
Code welding
Inert gas welding
The wide variety of available programs makes it easy for you to select the specific pathway that makes the most sense for your future goals as a boilermaker.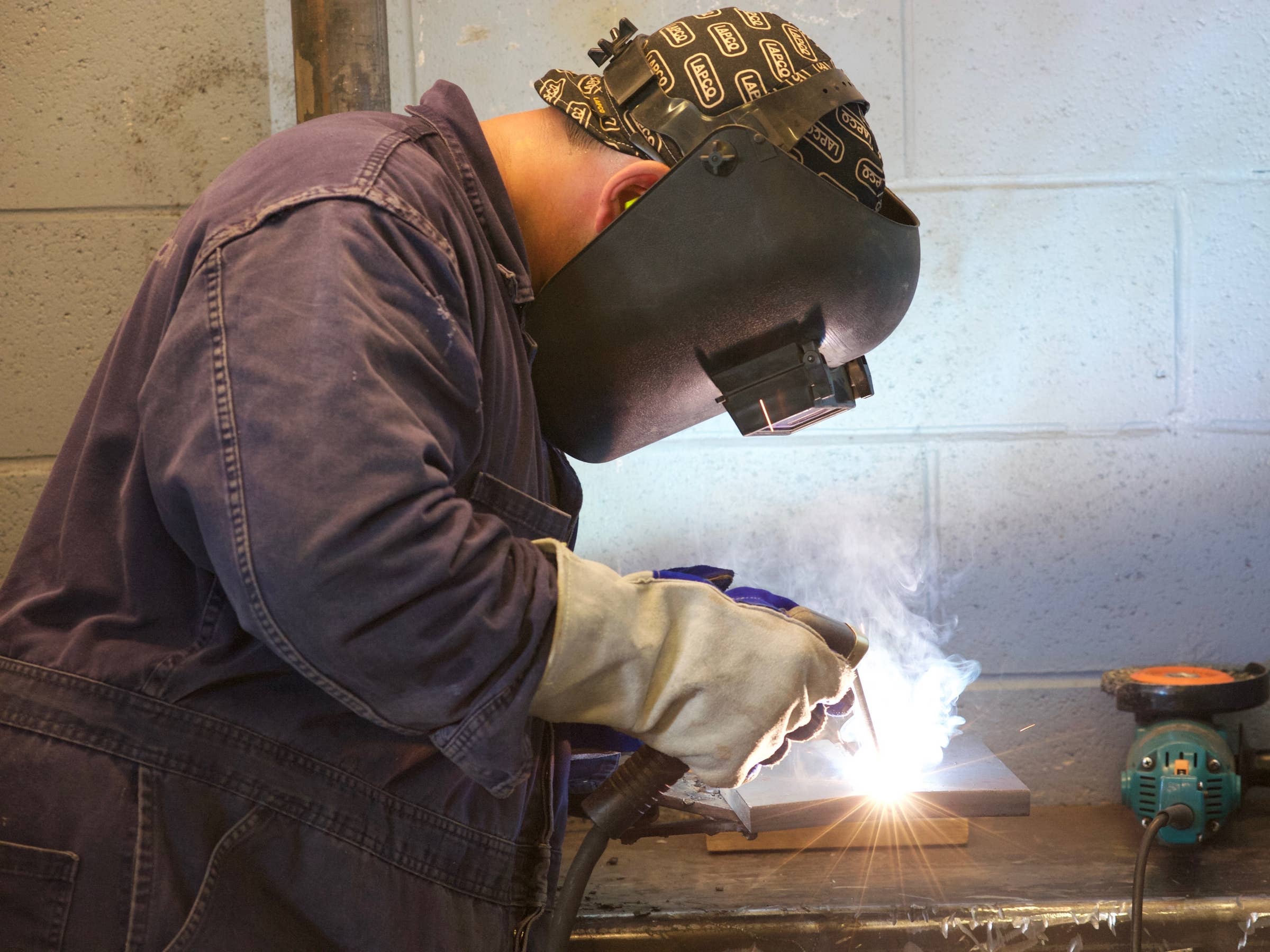 Top certifications for boilermakers
BOILER MAKING CERTIFICATION
The National Center for Construction Education & Research offers one of the best boilermaker certifications in the country. Their certification program is a comprehensive one that can even replace earning a degree from one of the schools shown above.
To earn the institute's boilermaker certification, you need to complete a four-level curriculum that includes an apprenticeship. You'll spend time developing skills in the real world and studying theory in the classroom. Completing this program will give you the well-rounded education that you need to find work as a boilermaker.
CERTIFIED WELDER
This certification is offered by the American Welding Society (AWS), which is one of the most respected names in the industry. Completing the program will definitively demonstrate to potential employers that you have all of the skills necessary to begin working as a boilermaker.
To earn the certification, you'll need to take a few online courses and pass a few exams. You can learn more about what it takes to earn the certification by visiting AWS's website.
CERTIFIED WELDING ENGINEER
This is another excellent certification program that's offered by the American Welding Society. It's a more intensive program than the Certified Welder certification pathway. It could be a good option for learners who are interested in qualifying for more advanced boilermaker positions.
Factors to consider before deciding on your academic path
As you can see from the information provided above, there are quite a few different academic pathways to consider if you want to become a boilermaker. Figuring out which one is the right option for you can be tough. But taking some time to consider the following factors should help.
SPECIALIZATION
From the outside looking in, the boilermaker industry may seem pretty uniform. However, there are quite a few different ways that you can specialize your skillset to qualify for more niche job opportunities. That's something you may want to look into doing, as these jobs often pay a bit more than general boilermaker ones do.
If possible, try to decide whether you're going to pursue a specialty as a boilermaker before deciding on an academic path. Making your decision early will ensure that you spend your time pursuing the right education for your specific goals.
TIME
Time is another factor that's super important to think about before embarking on a new academic journey. The more time that you spend in school, the more skilled you'll be when you graduate. On the other hand, you may also sacrifice a few additional years of pay if you're pursuing a long-term degree program full-time.
As with most things in life, this is a balancing act. You want to figure out how long you're willing to sacrifice a strong paycheck to pursue your education. Making this decision will help you zero in on the types of boilermaker programs that will fit your needs best.
MONEY
School can be expensive. You need to make sure that you're going to get a solid return on your investment before committing to a boilermaker program. There are two components to this.
First, you need to think about how much the boilermaker program that you're considering will cost you. Think about it in terms of the total cost that it will take you to graduate.
Once you have that number in mind, compare it to the salary increase that you expect to receive upon graduation. Think about how many years it would take you to break even. You can perform this calculation for multiple schools to determine which one will give you the best bang for your buck.