If you're interested in pursuing an industrial career, then becoming an HVAC technician is one option that you have to look into. HVAC technicians are relied upon across the country to install, repair, and maintain heating, air conditioning, and refrigeration systems.
But before you commit to this career path, it's important to make sure that you're willing to pursue the training you need to get hired and excel as an HVAC technician.
Keep reading to learn what types of HVAC training you should look into, who is a good fit for this career path, and the top schools for studying to become an HVAC technician.
What types of HVAC education and training matter
There are three major types of education and training that an employer will look at when comparing HVAC job applicants. Here's a look at each of those.
Trade and technical schooling
The majority of HVAC technicians pursue some type of formal training after completing high school. For many, this means attending trade and technical schools that offer specialized programs for aspiring workers in the HVAC field.
Earning an associate's degree in a program that focuses on HVAC technology can be an excellent way to stand apart from the competition while you search for jobs.
Very few HVAC technicians have a bachelor's degree. So you don't need to worry about pursuing one yourself if this is what you decide to do.
Certifications
Employers also like to hire candidates with certifications. Note, there are two types of certifications that you might earn while pursuing this career.
First, you could get a comprehensive certification from a trade or technical school instead of earning an associate's degree.
Second, there are also certifications that offer proof of your expertise in a specific part of the HVAC field. Working towards these is an excellent way to qualify for HVAC jobs that require advanced skills in a specific niche.
Hands-on training
Employers also love to hire candidates with real-world experience. Trade schools will often give you the chance to get this experience while you pursue your degree.
Some aspiring HVAC technicians also choose to pursue apprenticeships. These give the new HVAC tech the opportunity to work alongside an experienced professional and develop their real-world capabilities. They typically take between three and five years to complete.
Most people who complete apprenticeships in this field earn either an associate's degree or certification while doing so. But that's not necessarily a requirement.
Employers just want to know that you can do the job well. And if you've been a successful apprentice for multiple years they'll know that you can handle the position when you start applying for jobs.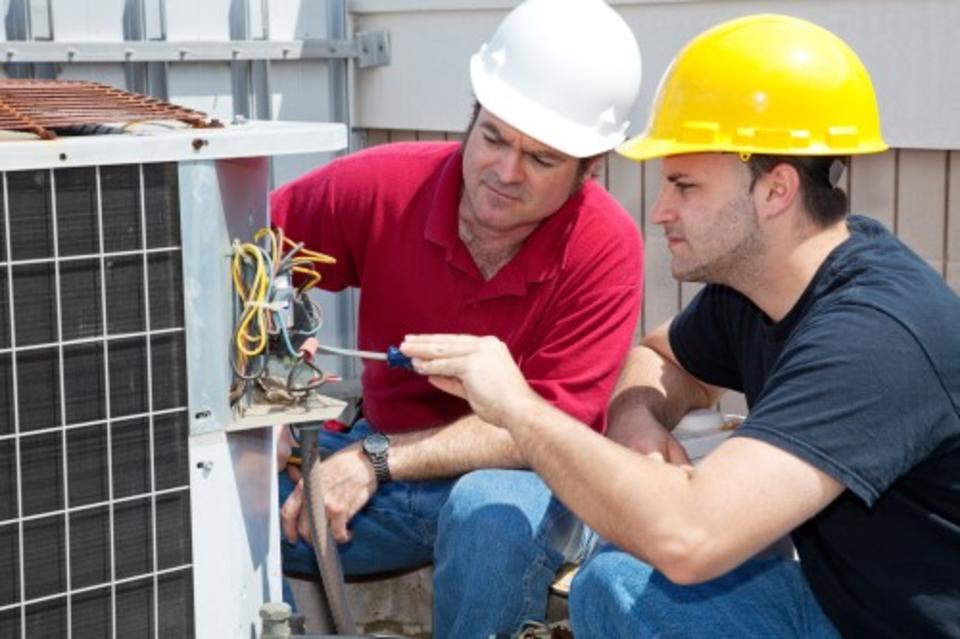 Who is best suited to pursue HVAC education
Individuals with these personality traits and intellectual interests
The people who fit most naturally with this profession are those with the following traits and interests:
Patient
Attention to detail
Customer service skills
Mechanical aptitude
Troubleshooting skills
Independent problem-solving capability
If you feel like you have most of these traits already, great. You will likely be a good fit for this field. But don't worry if you don't think you have all of the traits at this time. Pursuing an HVAC education will help you develop them.
People who are willing to commit to their training
Gaining the skills that you need to become an HVAC technician doesn't happen overnight. Most people will spend at least 1-2 years training for this career. At a minimum, you will have to devote six months of full-time hours towards training to become an HVAC technician.
If you're not prepared to do that, then this may not be the right career for you.
Your salary expectations align with your earning potential
It's also important to understand exactly how much you can earn as an HVAC technician and how that range aligns with your financial goals. If you won't make enough as an HVAC technician to meet your needs, then you may want to look elsewhere for industrial work.
According to the Bureau of Labor Statistics, HVAC technicians earn $50,590 per year on average. That translates to $24.32 per hour. But the specific amount that you earn can vary based on factors like experience, education, employer, and where you live.
Top schools to study and gain certification of HVAC from
If you've reviewed the previous information and still want to become an HVAC technician, then keep reading. Here are five academic institutions that excel at teaching this subject area.
Lewis-Clark State College
If you live in Idaho or a nearby state, Lewis-Clark State College is a school you should definitely check out. It's the only one in the state with a program in HVAC technology. The college has both 1 and 2-year programs available, which each teach students the HVAC skills they need to excel in the workplace.
At Lewis-Clark State College, you will learn about:
Electricity
Gas heat
Motors
Home appliance maintenance
Blueprint reading
And more
Northern Michigan University
Northern Michigan University is another great option you may want to look into if you're ready to pursue training as an HVAC technician. What makes this school great is that it offers HVAC training that's tailored to the specific type of work that you'd like to do once you graduate.
For example, you can attend Northern Michigan University and develop the skills that you need for a rewarding career in any of the following positions:
Journeyman HVAC mechanic
Service technician
Wholesale air conditioning company employee
Retail HVAC repair shop
And several others
Northern Michigan University teaches its HVAC students through a 45-credit certificate program. But most of the credits that you earn in this program can also be applied to an associate's degree in climate control technology. So it can be a good option if you're not sure whether you want to pursue an associate's degree or not right now.
Georgia Piedmont Technical College
You might also consider studying to become an HVAC technician at Georgia Piedmont Technical College. It stands out for its wide variety of academic pathways for students who are interested in this type of career. The school offers each of the following options:
Diploma in air conditioning technology
Associate's degree in air conditioning technology
Certification for air conditioning technician assistants
Certification for sustainable technologies
The school says that it trains its HVAC students in both theory and real-world practical applications. So you should have a well-rounded academic experience by the time that you graduate from the institution.
Austin Community College
If you live in Austin, Texas, then training to become a skilled HVAC technician could be as easy as going to your local community college. Austin Community College offers two options to aspiring HVAC technicians.
First, the school has a 29-credit certification program which takes about a year for most students to complete. Alternatively, you can complete a full 60-credit associate degree in heating, air conditioning, and refrigeration. This takes about two years to complete.
Either program will teach you what you need to know to excel in this line of work. Your classes will cover topics like the physics of refrigerants, relationships between temperature and pressure, and practical mechanical troubleshooting skills.
Indian River State College
Indian River State College is situated in Fort Pierce, Florida. The school has a wide variety of certifications, associate degrees, and other programs to choose from for students who are interested in HVAC technology.
The school's main program for HVAC students is its associate of applied science degree in air conditioning, refrigeration, and heating systems technology. This covers lots of topics you need to know about, including:
Refrigerant recovery
Air conditioning and heating system management
Introduction to business
Energy in building design
And more
Getting hired as an HVAC technician
Once you've completed your training, it'll be time for you to begin looking for employment opportunities. It may be easier for you to find a job you love if you're willing to be geographically flexible while you look.
Additionally, putting together a strong resume and a targeted cover letter for each job you apply to will help you stand out from the competition.
But ultimately, if you invest time and energy into your HVAC training, you'll be ready to knock whatever job you get out of the park.
Download the Rock the Trades app to learn more
For more information on training resources and jobs near you, download the Rock the Trades app to take the next step towards your HVAC professional goals.